August 4

: Virgin Galactic conducted the sixth glide test flight of SpaceShipTwo Unity in what it described as a "dry run" for upcoming powered flights. During this 10-minute flight, the ship carried a nearly intact propulsion system, with only the solid fuel engine casing replaced with ballast.

July 7: NASA announced that it has selected New Mexico State University to receive grants for two projects: "Autonomous Structural Composites for Next Generation Unmanned Aircraft Systems" and "On-Orbit Structural Health Monitoring of Space Vehicles."










For previous news postings, visit the News Archives page.



Photo Credits
Robert Goddard towing one of his rockets to the launch site near Roswell about 1931, courtesy of NASA.

WhiteKnightTwo carrying SpaceShipTwo at Spaceport America runway dedication flyover, photo by Loretta Hall.


Unless otherwise credited, all material on this site is
©
Loretta Hall 2010-2017.


The Virgin Galactic Gateway to Space at Spaceport America, October 21, 2011, viewed from the west. Photo by Loretta Hall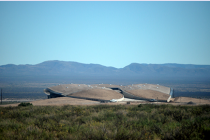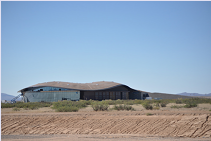 The Virgin Galactic Gateway to Space at Spaceport America, October 21, 2011, viewed from the northeast.
Photo by Loretta Hall

UP Aerospace launch
June 21, 2013
Spaceport America
Photo by Loretta Hall