July 7

: NASA announced that it has selected New Mexico State University to receive grants for two projects: "Autonomous Structural Composites for Next Generation Unmanned Aircraft Systems" and "On-Orbit Structural Health Monitoring of Space Vehicles."

June 21: The Las Cruces Sun-News reported that Spaceport America tenant Pipeline2Space will begin test launches in the next week. The company intends to send small capsules to suborbital space using a pneumatic tube launch system. Visit the P2S website to see how you can send your small cargo to space!

June 20-24: The first annual Spaceport America Cup took place. It is an event of the Intercollegiate Rocket Engineering Competition for student rocketry teams. Over 110 teams from colleges and universities in eleven countries launched solid, liquid, and hybrid rockets to target altitudes of 10,000 and 30,000 feet. On June 24, ULA successfully launched its 53-foot-tall Future Heavy rocket.

June 16: Several publications ran stories about ARCA Space Corporation's upcoming launch of its Demonstrator 3 rocket in August at Spaceport America. It will be the first flight test of an aerospike engine, a design that had been considered for the space shuttle. ARCA expects the test flight to reach an altitude of 62 miles. The company plans to use the aerospike engine on its single-stage-to-orbit Haas 2CA rocket, which will be capable of launching small satellites from inland spaceports.

June 1: Virgin Galactic's fifth successful glide test had an "emphasis on proving the spaceship's handling qualities, particularly at low speeds, with more weight on board than previously, and with a centre of gravity shifted towards the back of the vehicle."









For previous news postings, visit the News Archives page.



Photo Credits
Robert Goddard towing one of his rockets to the launch site near Roswell about 1931, courtesy of NASA.

WhiteKnightTwo carrying SpaceShipTwo at Spaceport America runway dedication flyover, photo by Loretta Hall.


Unless otherwise credited, all material on this site is
©
Loretta Hall 2010-2017.


The Virgin Galactic Gateway to Space at Spaceport America, October 21, 2011, viewed from the west. Photo by Loretta Hall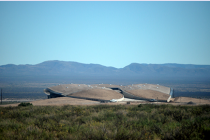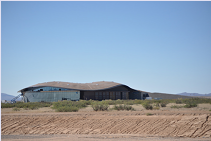 The Virgin Galactic Gateway to Space at Spaceport America, October 21, 2011, viewed from the northeast.
Photo by Loretta Hall

UP Aerospace launch
June 21, 2013
Spaceport America
Photo by Loretta Hall